A new shop opens · 2019-07-01
The recent Uncle Tetsu craze leading up to this New York City launch.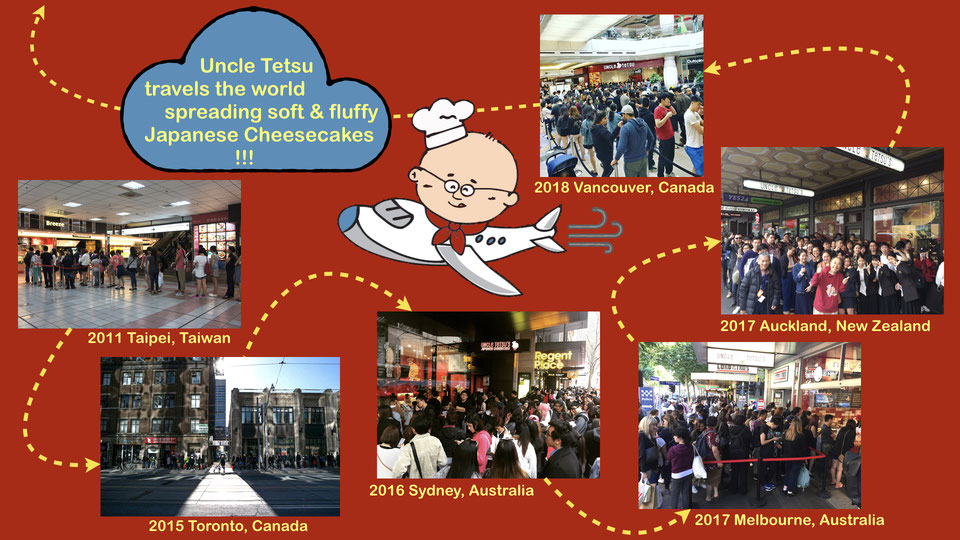 First opening in Hakata, Fukuoka, Japan in 1990, Uncle Tetsu became a favourite loved for many years by the locals before spreading and becoming a hit in China, Taiwan and Hong Kong, then the rest of Asia.
In more recent years, with dreams of opening all over the world, Mr.Tetsu launched in Toronto Canada, the first store in the west.
The opening was more overwhelming then Uncle Tetsu could have imagined. The diverse and curious Torontonians immediately fell in love with the famously soft & fluffy Japanese Cheesecakes and Uncle Tetsu instantly became the face of the city's Little Tokyo.
From Toronto, Uncle Tetsu then opened up in
Hawaii & Los Angeles USA, Sydney & Melbourne Australia, Auckland New Zealand and Vancouver Canada.
These openings were likewise met with enormous numbers of people who waited for hours on end to get their freshly-made cakes from the mini factory-shop.
The time has now come for uncle Tetsushi to open the first store on the east coast of the United States of America, in the heart of the theatre district in downtown New York City, New York.