History of Uncle Tetsu: The Company & The Man
History of Uncle Tetsu: The Company & The Man · 2018-06-08
Uncle Tetsu attends "Yosakoi Soran Matsuri" in Sapporo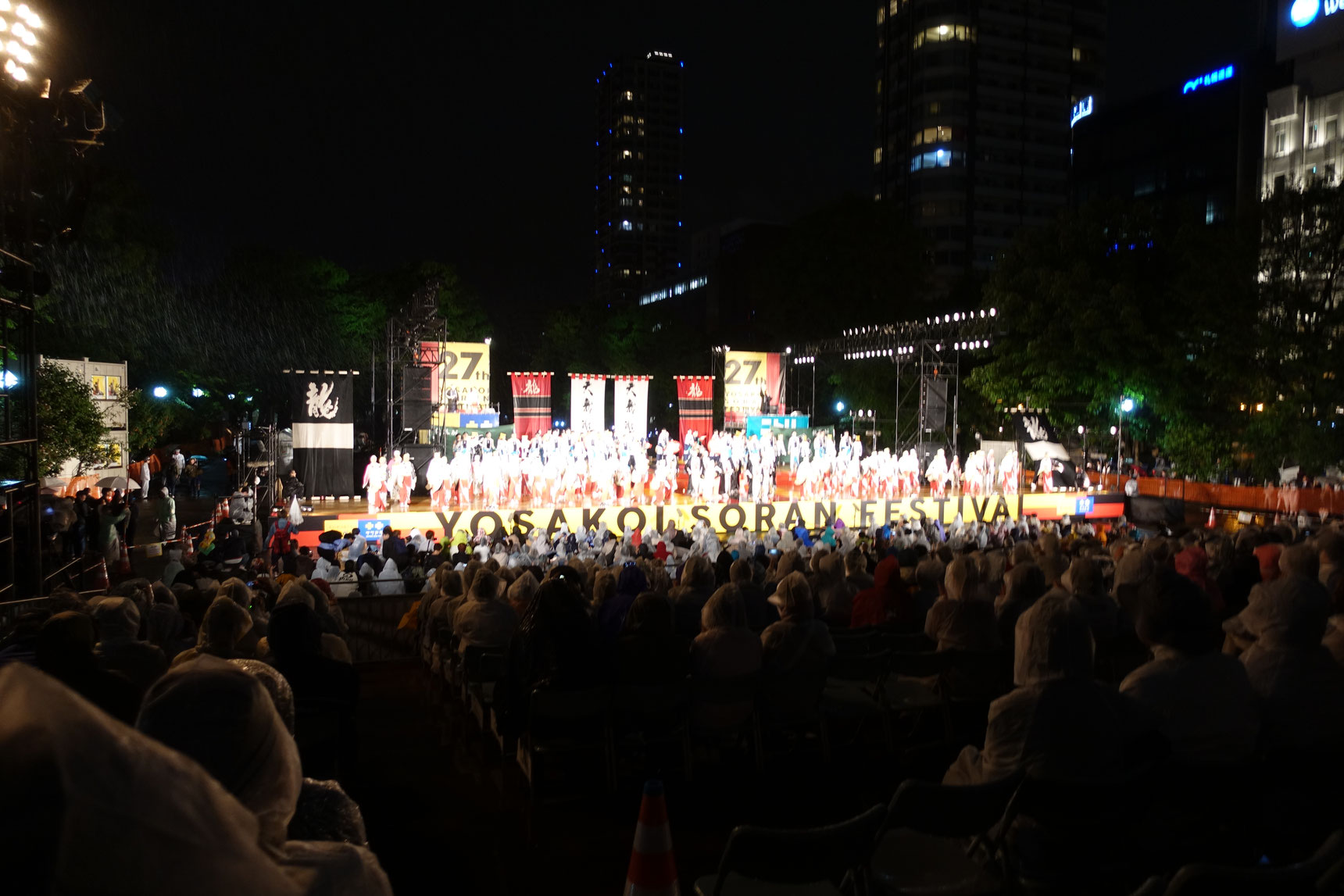 For those who do not know, yosakoi is the name of a contemporary Japanese dance that first started in the prefecture of Kochi. Yosakoi is traditionally based on the fishermen's movements of casting & reeling in fish nets and over the years has adopted many modern elements to make it the spectacle that it is today.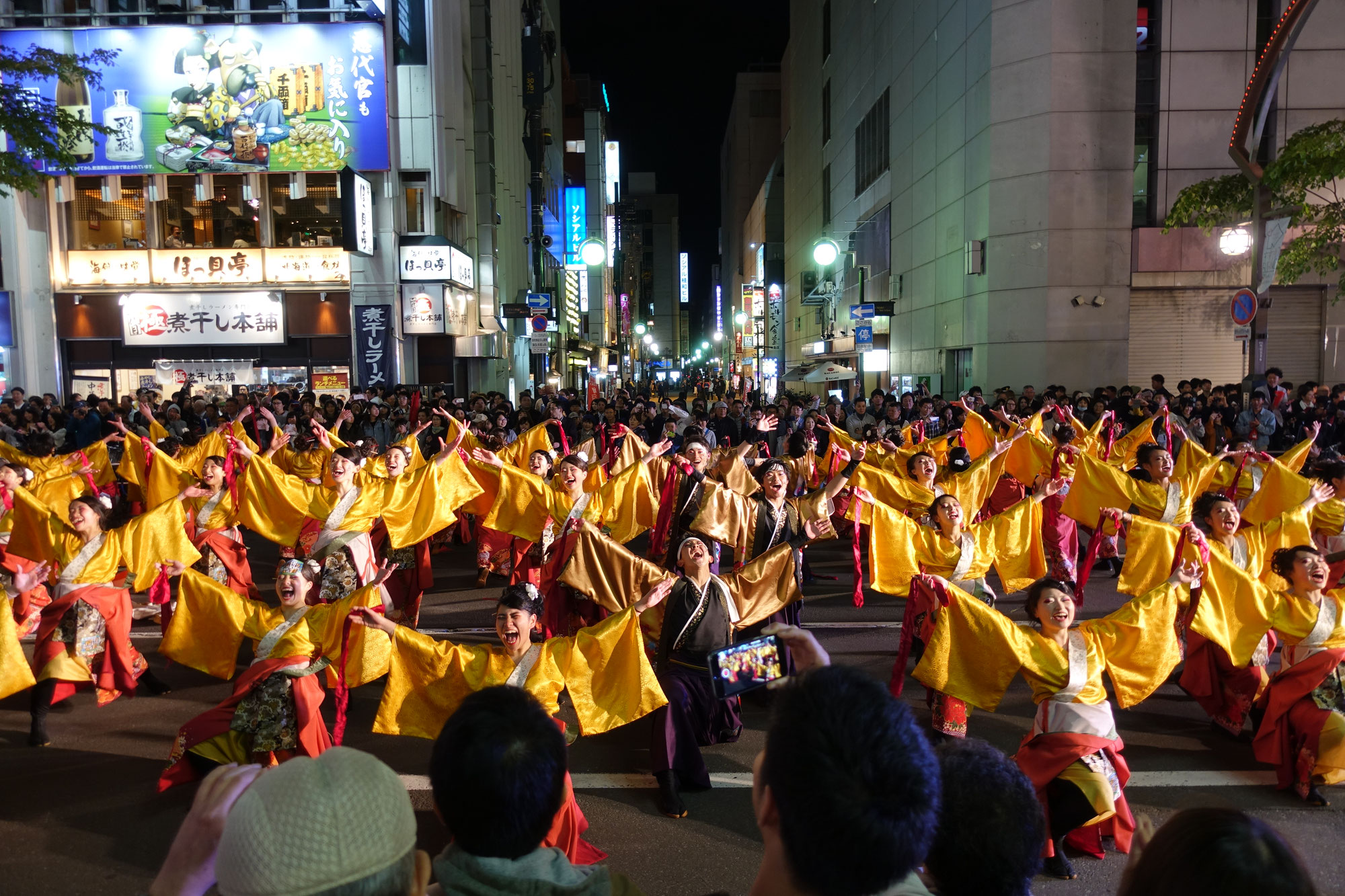 Yosakoi continues to evolve and is characterized by an overall powerful & exhilarating performance, with the use of bright or strong colours, the waving of super-large flags, the playing of handheld taiko drums and other instruments, and the coordinated movement of a large team of people that can symbolize waves of water or group fishing and more generally the teamwork of people with a shared purpose to do.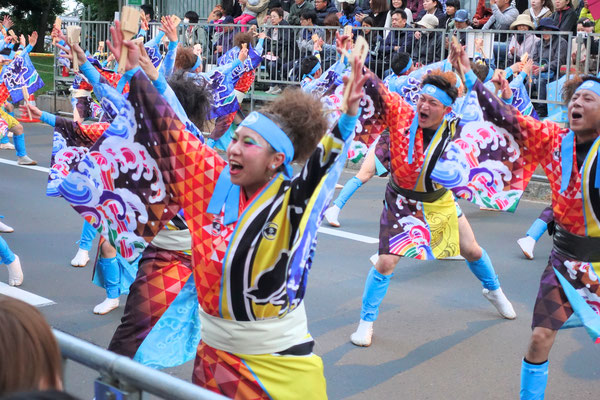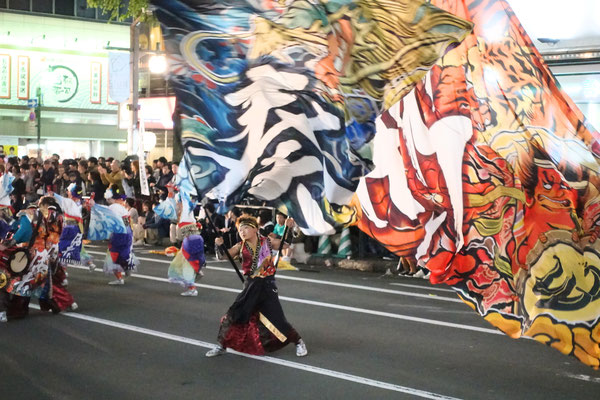 There are many yosakoi dance groups all over the nation, and even some outside of Japan, for example in Taiwan and Russia, all for whom it would no doubt be a dream to perform at the Yosakoi Soran Festival, which is held annually in June in the city of Sapporo, the largest city in Hokkaido, Japan.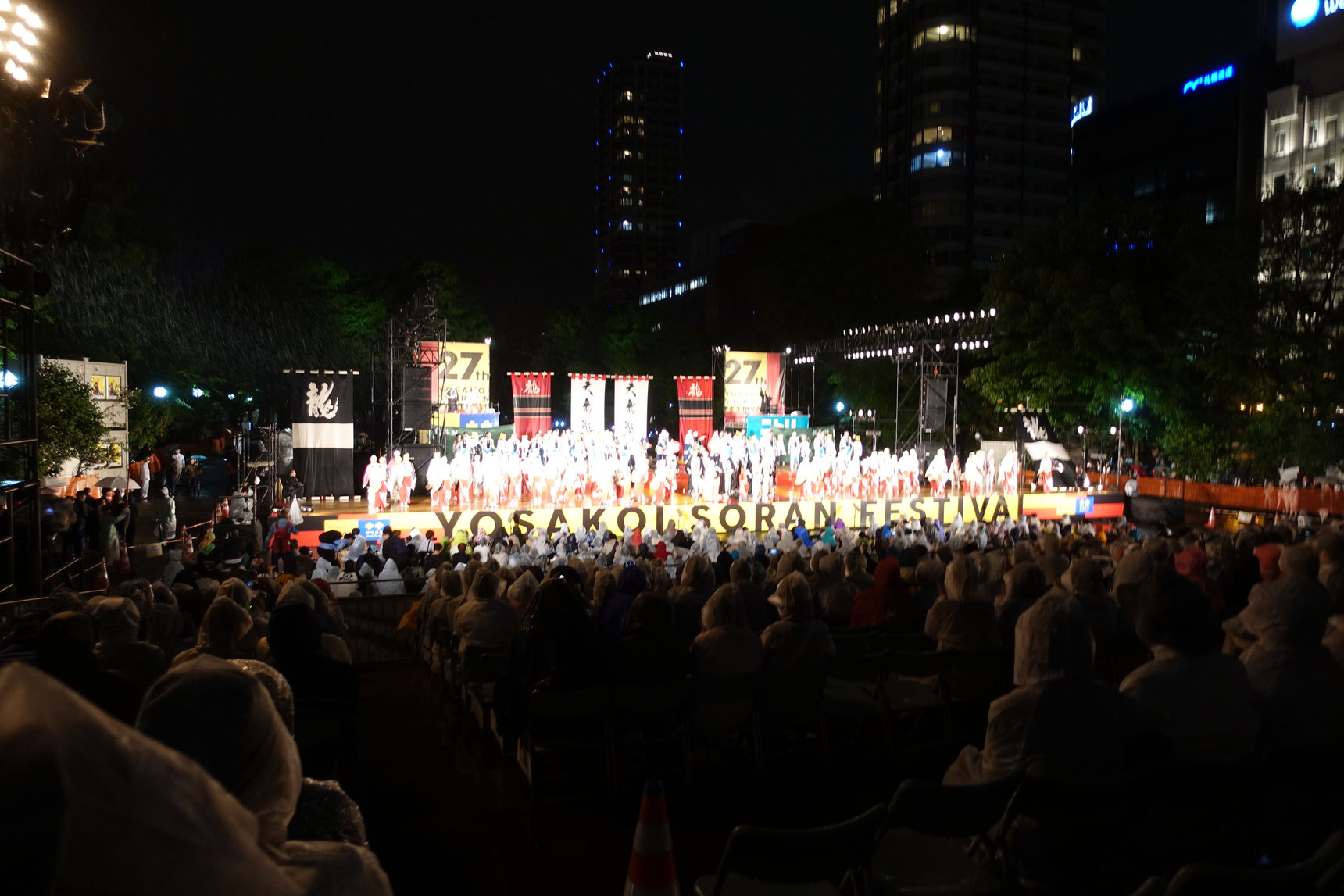 A little history of Uncle Tetsu & Yosakoi.
Many years ago, Uncle Tetsu had his own restaurants in Hokkaido and so would often visit there. It was here in Sapporo that he experienced Yosakoi Soran Festival for the first time and felt the sheer beauty & power of yosakoi dance. Believing that yosakoi has a unique ability to gather the attention and presence of people, Uncle Tetsu wanted to create a yosakoi festival in his hometown of Fukuoka, the largest city in the southwest part of Japan.
So, in 2000, with the help of a man named Mr. Maenaka, he founded Fukukoi Asia Festival and as an effective way to call many neighboring yosakoi dance groups to join, they assembled a yosakoi team named "Fukukoi Ren" which traveled around southwest Japan and represented the festival. In its first year, with many groups joining in the festival, "Fukukoi Ren" won first place, and in the five consecutive years thereafter Uncle Tetsu's original yosakoi team called "Vogue Fukuoka" won the top prize at the Fukukoi Asia Festival.
This event continues to this day, along with Uncle Tetsu's continued support of both the festival and his original group, which now goes by the name of "Entrance". Festival meetings and dance rehearsals take place in a space that Uncle Tetsu provides, almost next to his own home near Oyafuko Street in Fukuoka.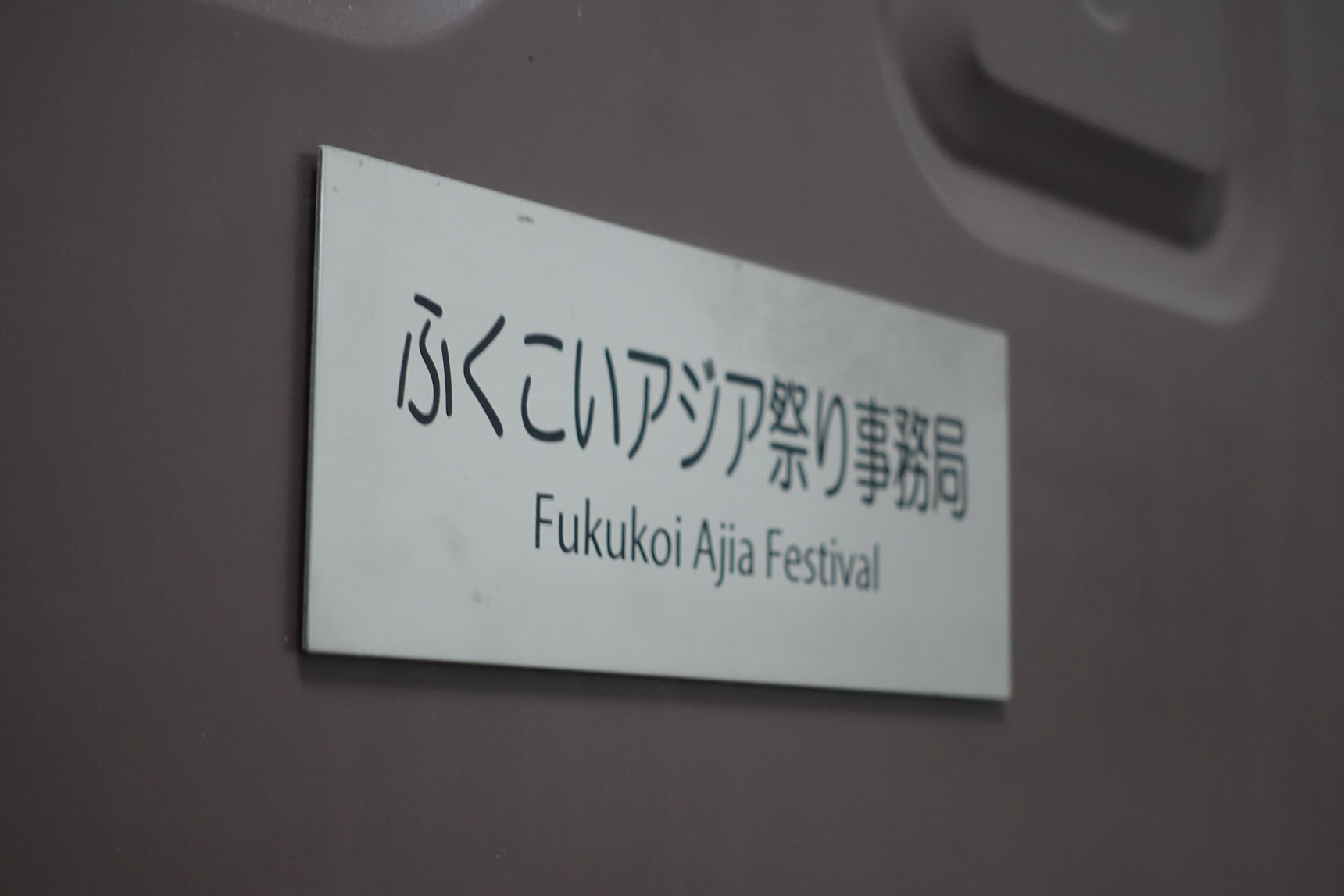 This year, as he does every year, Uncle Tetsu travels to Sapporo to attend the 27th Annual Yosakoi Soran Matsuri. And out of sheer happenstance, as Uncle Tetsu walks down a street closed for yosakoi street performances, the next dance group called up to perform is "Galack", in which many of its members are former members of "Vogue Fukuoka". Just before the performance begins, a team member runs over to greet Uncle Tetsu.
Without further ado, here is their full street performance!!
VIDEO: https://youtu.be/LLuBjh59Zk0
As the performance comes to a finish Uncle Tetsu turns to leave when his name is called from a short distance away. As he turned around, two women emerge from the crowd with happy tears in their eyes, evidently overcome with surprise & delight in this serendipitously reunion. These two women were former members of Uncle Tetsu's Hokkaido-based yosakoi dance group—named "Vogue"—and were likewise attending the festival in support & love of yosakoi. What are the odds, in a city overcrowded with happy yosakoi fans, of this unplanned run-in?!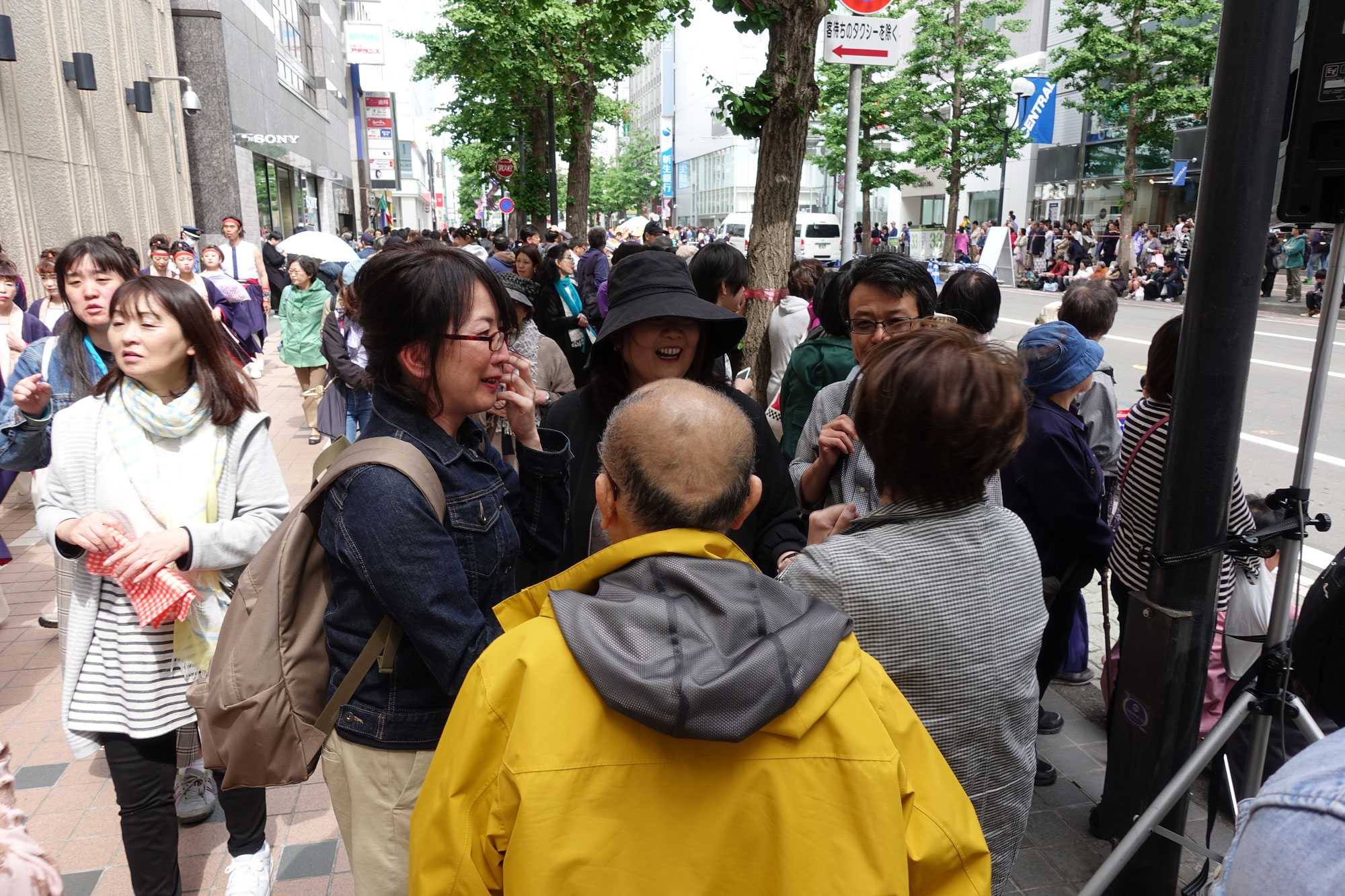 Late in the evening on the last day of the festival, after the final performances and top teams were nominated, Uncle Tetsu get a call from Mr. Maenaka who is in the area. They are able to meet once again at this year's festival... joined again through the passion for yosakoi.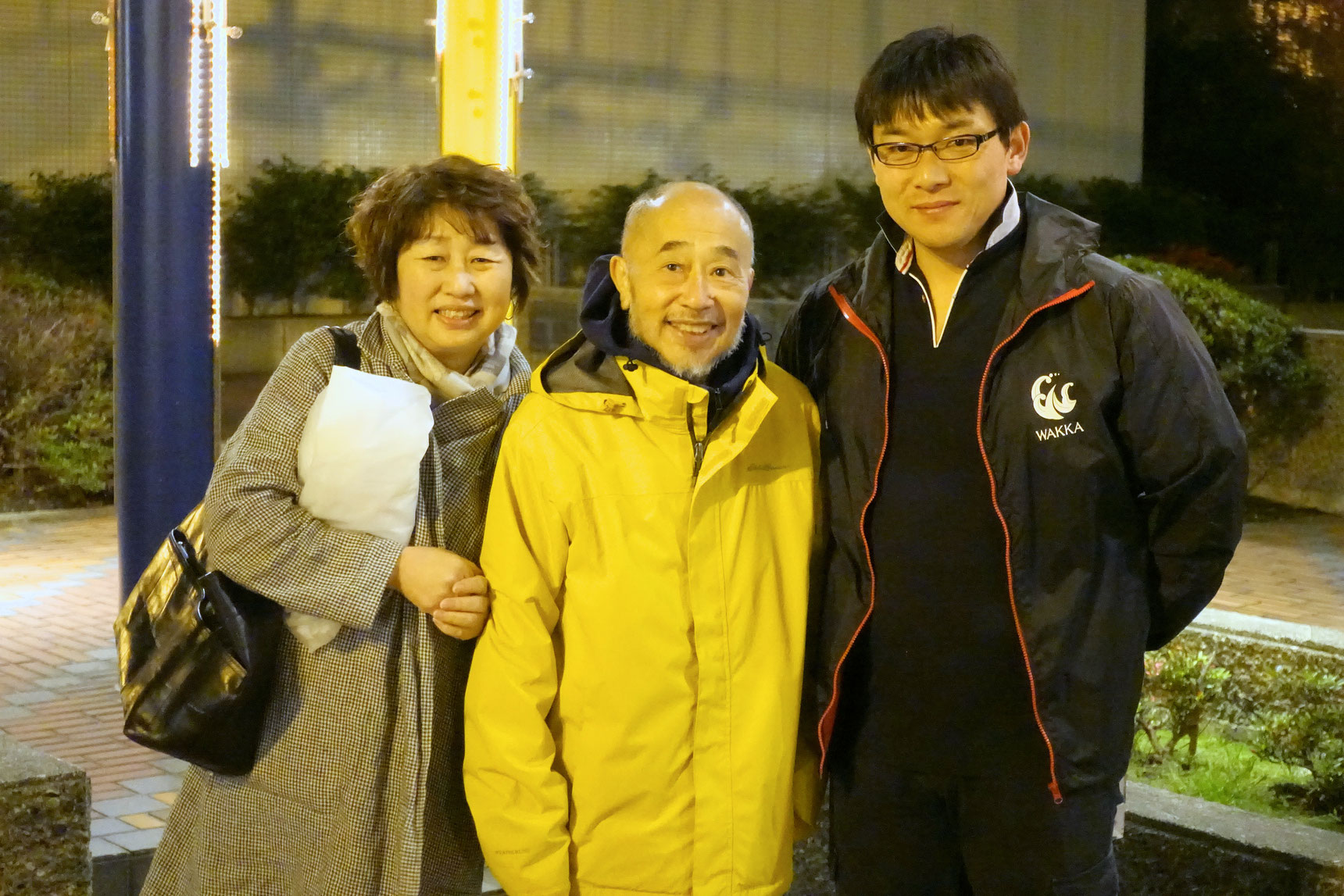 After this picture was taken, Uncle Tetsu, Uncle Tetsu's wife, and Mr. Maenaka together catch up over spicy hot noodles in a restaurant around the corner. Given their history, including creating Fukukoi Asia Festival together 18 years ago, they surely had many things to catch up on and share.
It was Uncle Tetsu's experience in yosakoi as a young man that he attributes much of his learning how to inspire and lead large teams of people, and he is often found referencing the days of building his yosakoi team when coaching future managers & leaders on how to build a great team for a successful Uncle Tetsu Cheesecake Shop, cafe, or idol dance group.
One could say that one of Uncle Tetsu's talents is inspiring & supporting young people who have dreams and motivations for the future, who likewise from their heart, wish to support Uncle Tetsu and his aspirations.
Photogallery of the 27th Annual Yosakoi Soran Matsuri 2018, Sapporo.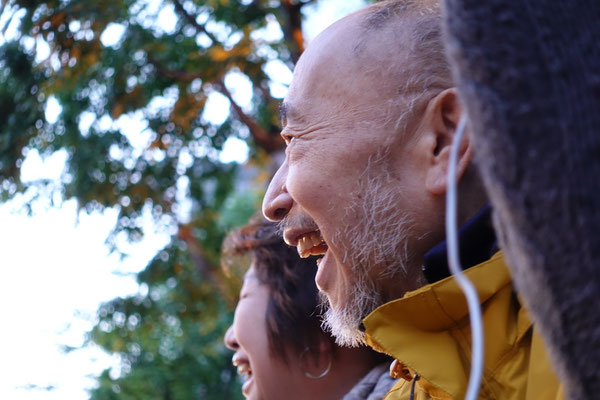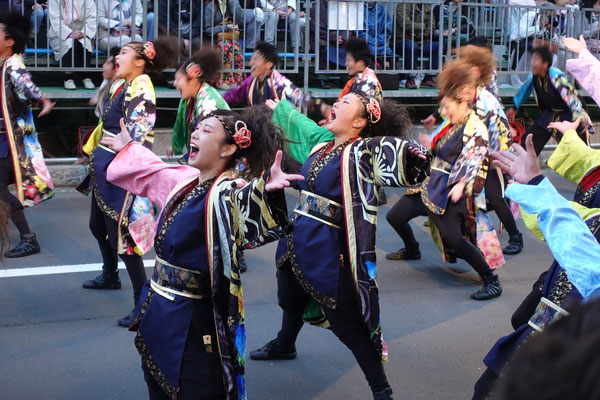 Go here for the Official homepage of Yosakoi Soran Matsuri (in Japanese)
Go here for information on Yosakoi Soran Festival on the Sapporo Travel website (in English)